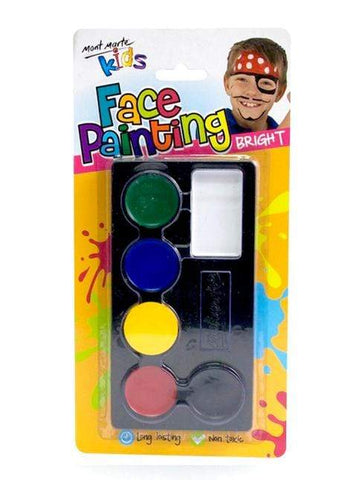 DS - Face Paint Set - Bright
Mont Marte Face Paint Set - Bright Colours
6 Colours
Long lasting
Non toxic
Can be applied with a sponge or brush
Mont Marte Kids Face Paint Sets offer a safe and convenient selection of colours, ideal for children's parties or just having plain fun.
Experiment and be inspired by your imagination - fairies, dragons, your favourite sporting team - you name it, you can create it. Remove with oil-based cleanser or makeup remover.
FEATURES
6 vibrant colours included - White, Yellow, Red, Blue, Green and Black.
TIPS
To ensure good setting of oil based face paints and crayons, apply a light dusting of baby powder or talc to the face or body before applying the makeup.
Oil based - Avoid sunlight and heat.
For complete product information please see Product Informational
***
Ex Shop Display Stock
All the stock in this category is from my physical retail shop that I have recently closed. The products are BRAND NEW AND ALL IN GREAT CONDITION, though some may have shop price labels and packaging may have some small signs of wear from being displayed.
---
We Also Recommend
---